Buy or sell a property in Sainte-Julienne with Lydia Soczniew and Sylvain Leclerc.
RE/MAX Prestige Real Estate Agent
For more information, do not hesitate to call us at the following numbers:
---
Sainte-Julienne - Between Plains and Mountains
Located in Lanaudière, less than an hour from Montreal, Sainte-Julienne is the second largest municipality within the Montcalm RCM. Covering an area of 102 square kilometers, it has become a destination for young families and retirees.
The proximity of urban centers is a notable advantage for those who want to buy a property in the area. The municipality is indeed very close to the greater Montreal area and the regional capital of Joliette, while being only a few kilometers from Laval, Saint-Jérôme, Terrebonne, Mascouche and, of course, Rawdon. This proximity is made possible by access to Autoroute 25, Route 337, and Route 125. In order to improve mobility and safety, the Quebec government announced in September 2020 important investments for the extension of Autoroute 25 to Sainte-Julienne.
I Live My Happiness (J'habite mon bonheur)
The municipality's new branding to employees, the business community, and community organizations in Sainte-Julienne, launched in 2017 reveals a most positive character. One can feel the desire to affirm that happiness. As Mayor Marcel Jetté pointed out: "In Sainte-Julienne, we want to be an environment where everyone lives in their own way, and this, in all simplicity. We are a municipality where people are happy, where everyone is accepted and is part of this great Juliennoise family. We create our little moments of happiness and work together to create a rich and stimulating environment." (Source: https://www.sainte-julienne.com/wp-content/uploads/2015/08/MSJ-DPL_Image_marque-WEB.pdf)
This video clip was made by Plume Libre.
A Little Bit of History
The first settlers cleared the land in the 1840s. Most of them were French Canadians, but some were Irish. The parish of Sainte-Julienne-de-Rawdon was founded canonically in 1848 by Joseph-Édouard Beaupré, and named in honor of Julienne Falconieri, an Italian nun canonized in 1737. In 1855, the municipality of the same name was civilly established by its detachment from the municipality of Rawdon, and Mr. Beaupré was its mayor until 1880 (the name was reduced to Sainte-Julienne in 1967).
In the 19th century, several artisanal businesses, such as blacksmithing and shoemaking, were established. The western part, bordered by the Saint-Esprit River, favoured the establishment of saw, carding, and flour mills. Farmers settled on the fertile land.
In 1901 and 1915, unfortunately, fires (the scourge of Quebec at the time) did not spare the municipality, which lost dozens of houses.
In Sainte-Julienne, the first telephones were installed in 1910. In 1913, electricity was available in the municipality near the rows ('les rangs'). The more distant houses were only supplied after the Second World War.
On a more anecdotal note, the brother of Joseph-Édouard Beaupré, founder of Sainte-Julienne, Mr. Gaspard Beaupré, was the father of the famous giant Beaupré (Re: http://www.biographi.ca/fr/bio/beaupre_edouard_13F.html)
Demographic Trends
For several years, the municipality of Sainte-Julienne has experienced strong demographic growth (+16.9% between 2006 and 2011).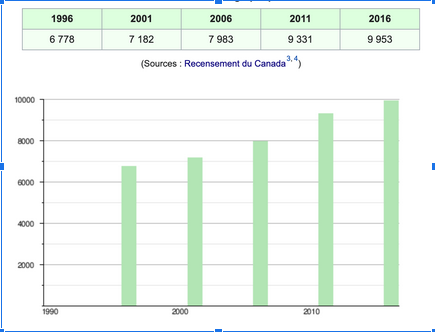 Today, Sainte-Julienne has 11,086 inhabitants.

A Dynamic Municipality with a Countryside Charm
Since 1925, city dwellers in the Montreal area were looking for areas where they could find fresh, clean air. Among them, there was a craze for the Laurentians and then for Lanaudière. Around Lake Quinn and Lake Lac des Pins, located a few kilometers from Sainte-Julienne, cottages have been built to accommodate the tourists who come back every year attracted by the quality of services and the welcome they receive. Today, people come to settle in Sainte-Julienne for its many green spaces and the quality of life that comes with it. Residential construction is in full swing.
A Development in Symbiosis with its DNA  
In Sainte-Julienne, development must be done with respect for the environment, the country charm, and the quality of life that characterizes the community. The urban planning and environment department analyzes all large-scale development projects hand-in-hand with the urban planning advisory committee.
In addition, the city has distinguished itself by becoming the first municipality in the Montcalm RCM to implement organic waste collection. With this new service, it has succeeded in diverting tons of residual materials that are transformed into compost instead of being sent to landfill sites.
Schools, Culture, and Sports
Sainte-Julienne offers several options in terms of education: a comprehensive school and four elementary school pavilions administered by the Des Samares School Board. Nearby are English schools; elementary in Rawdon and high school in Joliette, both under the administration of the Sir Wilfrid Laurier School Board.
In terms of culture, recreation, and sports, we note several places and activities in the region, including:
Many activities, parks, and green spaces also enliven the community of Sainte-Julienne itself, which inhabits an environment that exudes happiness. In addition to hosting a summer day camp and maintaining a children's park, there is an annual ATV festival and numerous snowmobiles and 4-wheel trails.
The municipality also has a great program of courses, for both winter and summer, such as yoga, Spanish, oil painting, but also badminton, weight training, volleyball, kin-ball, dance, etc.
Several ski centers are located nearby:
As well as hiking trails:
Sainte-Julienne also has Bernard Duquette's sugar shack, Au Sentier de l'Érable.
---
Real estate statistics

---
Sainte-Julienne - Useful links
Texts taken or inspired by:
https://fr.wikipedia.org/wiki/Sainte-Julienne
https://lanaudiere.ca/fr/municipalites-lanaudiere/municipalite-de-sainte-julienne/
https://www.facebook.com/municipalitesaintejulienne/
https://histoire-du-quebec.ca/sainte-julienne
https://www.sainte-julienne.com/services-municipaux/service-de-lurbanisme-et-de-lenvironnement/investir-a-sainte-julienne/
https://histoire-du-quebec.ca/sainte-julienne
---
Buy or sell a property in Sainte-Julienne with Lydia Soczniew and Sylvain Leclerc.
RE/MAX Prestige Real Estate Agent
For more information, do not hesitate to call us at the following numbers:
-------------------------------------------------------------------------------------------------
Lydia Soczniew's Google My Business listing: https://g.page/r/CRAGThYR1m4fEAE
Sylvain Leclerc's Google My Business page: https://g.page/r/CQWf-0NPJZDAEAE
Visit our other regional pages: